Technology, big data, and sophisticated rating algorithms have transformed the Personal Lines marketplace. Nowhere is this change more apparent than in the world of comparative raters. Today independent agents can place business the same way we book travel. Think Expedia, Orbitz, and Kayak.  Just like a travel aggregator, with a few keystrokes, and the same input, comp raters can, in seconds:
Provide agents with very broad access to the majority of Personal Lines carriers
Display multiple options for selection, ranked and sorted by price
This type of competitive environment is completely different than the traditional approach of independent agents going into individual carriers' proprietary system.  To be successful in this new landscape requires a new approach, and new capabilities.
Challenges and Opportunities
How can Mutual companies respond to the challenges and opportunities offered by utilization of comp raters for Personal Lines like EZLynx, PL Rating from Vertafore and others?  While these platforms provide Mutual companies with significantly broader access to more new business, it does greatly increase the competitive environment they participate in. When technology makes it easy to compare prices, any deviation from the marketplace will be exposed quickly. In this transparent environment companies must come to grips with the challenge: be overly competitive on certain subsets of business—and risk that profitability inevitable suffers—or accidently over-price and never have a chance to compete at all.
Unlocking the Power of Big Data
Not all data is created equal. And not all data will provide the answers companies seek. The most sophisticated carriers are capitalizing on the opportunity that technology offers to manage the performance of their product by using data and analytics packages. Third-party data from the technology firms provides insight into areas like the number of carriers that quotes a risk, the lowest price, the highest price, and average price. This data unto itself is helpful, but the true power of third-party data is unlocked when it is married with a Mutual carrier's internal data.
Combined with data analytics—the process of examining big data to uncover hidden patterns, correlations, market trends, and customer preferences—Mutual companies can make informed business decisions based on the new information provided by comp raters.
Analytics can provide insight so Mutual companies can accurately:
Learn how new and existing products are performing in market
Gauge individual agent performance
Identify segments of business that are either overly competitive or out of market
Identify underwriting rules that attract preferred books of business
New Product Launch: the Goldilocks Moment
With a new product launch, carriers are looking for that Goldilocks moment—not too high, not too low, just right! The key success metric that carriers analyze when reviewing a new product is hit ratio. This still remains important. But what becomes even more powerful is using comp rater data to analyze just how competitive or uncompetitive a carrier actually is compared to the market.
The below example shows the results from one carrier's new product launch in Personal Auto in Pennsylvania. While the carrier knew that their hit ratio was high in Philadelphia and low in Pittsburgh, the comp rater data allowed them to see just how far off they were.
With this insight, the carrier quickly revised territory factors in their rating plan to adjust the premium charged to remain competitive while improving profitability.
Agency Performance:
In a changing distribution landscape in which more independent agents are being acquired, success or failure of the same product can vary widely based on the distribution source. One Mutual was seeing a consistent slippage in the competitiveness of their personal auto offering based on historical hit ratios. The traditional approach suggests lower rates would increase competitiveness.
The comp rater data exposed that the hit ratio was not decreasing because of overall competitiveness, but due to the shift in the source of the business:
As this carrier got more and more of their quotes from aggregators, the number of competitors increased. Although their pricing relative to the market was consistent across source, the hit rate was reduced significantly as competition multiplied. The carrier decided to stay on the platform however, because as the percentage of wins decreased, the actual number of wins increased thanks to the platform providing so many more new business opportunities.
New Product Features:
In an effort to write more new business, carriers are becoming increasingly sophisticated in the use of new business discounts to attract the highest quality policyholders. These discounts are being built directly into the premium so the most competitive prices are displayed on the comp rater. In a price sensitive marketplace, the impact of new features, such as an early quote discount, can have a quick and significant impact on success.
Over a multi-year period, one carrier was experiencing a consistent decline in new business competitiveness. The carrier wanted to ensure that they lived into their commitment to be a good, long-term partner for all of their policyholders while still attracting new members. After exploring many options, the analytics led them to provide a discount to those policyholders that shopped earlier relative to their effective date. Once introduced, the discount drove their hit ratio up significantly while also attracting a more preferred risk profile.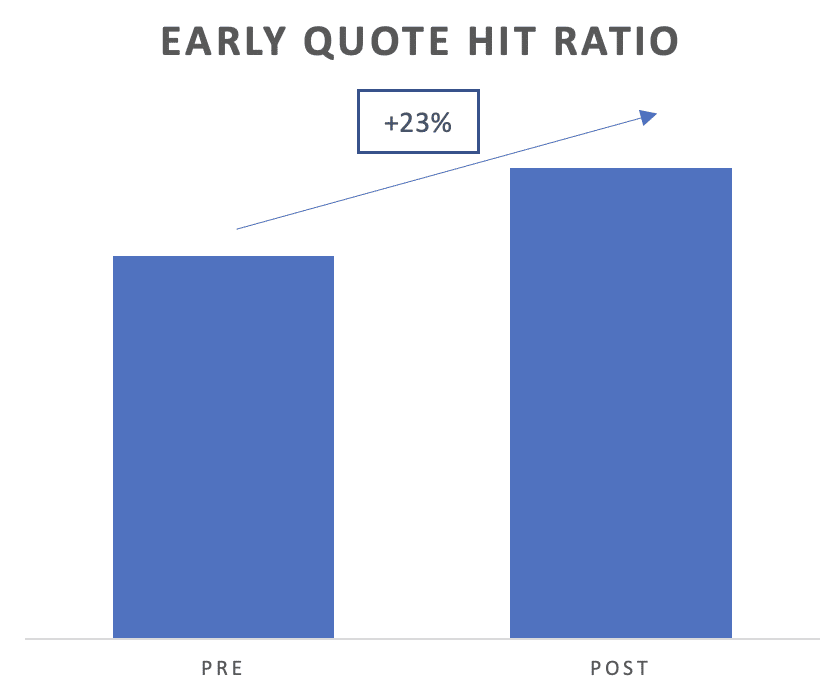 Conclusion: Prepare for Take Off
The opportunity to continue to thrive in the independent agency channel for Mutual carriers does still exist, but the playing field has changed considerably. Big data sets, comp raters, and analytics offer new insights into marketplace performance. The most successful carriers are leveraging their strong agency relationships with more sophisticated uses of data and analytics to capitalize on the opportunities the marketplace now provides.