Every day, Mutual insurance companies make tactical and strategic decisions to improve their performance, reduce costs, and grow competitiveness. It is critical to have the right information at the right time in order to make the most informed decisions. Navigating volumes of data and turning it into actionable insights can be overwhelming – proven expertise is required to transform data into business insights. Business Intelligence goes beyond traditional reporting and is a highly specialized field that requires a combination of in-depth business knowledge, technical ability, and data visualization techniques.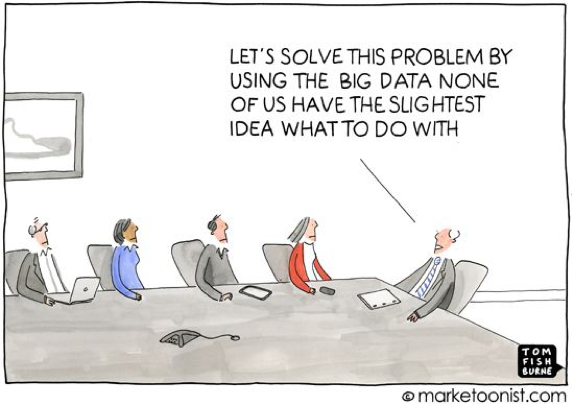 What is Business Intelligence?
Business Intelligence, or BI, is a comprehensive collection of the processes, tools, and methods of collecting, storing, and analyzing data in order to make data-driven decisions. Business Intelligence helps users draw conclusions from data analytics, answer specific business questions, and explore/interact with data. Business Intelligence often leverages data visualization techniques, which represent information and data visually with charts or graphs in order to see and understand trends, outliers, patterns, and relationships.
Why is Business Intelligence Important?
Business Intelligence marries the technical expertise of IT organizations with the necessary business context required for interpreting results and making decisions. Understanding a business question, knowing what information is critical for answering the question, and visualizing the data to easily communicate insights is how Business Intelligence differs from the typical data queries or static reports of the past. Modern-day Business Intelligence tools and platforms allow users to interact with their data and answer their own business questions quicker and more effectively than ever before. Simply stated, Business Intelligence is critical for organizations looking to make more data-driven decisions.
Let's say you need to know:
Did quotes trend up or down last year?
Which month had the lowest number of quotes?
Even though the table below is very small, how quickly and accurately can you answer the 2 business questions you need to know?

It is more difficult for users to answer the questions using a standard table view. Let's see what would happen if we leverage data visualization techniques with the exact same data.
Very quickly you can see that quotes trended downward over the year, and the month of March had the minimum number of quotes. (Now, try to imagine if the sample table above was actually 20 columns wide and 1,000,000 rows long!)
Business Intelligence techniques provide users with insights much quicker than standard reporting and allow businesses to spend more time making decisions and less time interpreting the data.
At the core of Business Intelligence are the business questions that need to be answered. A structured approach is helpful to get the answers.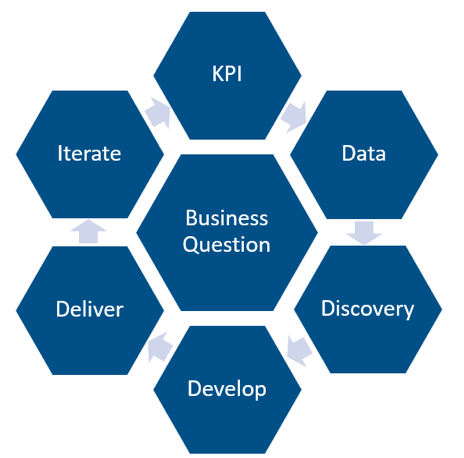 Business Question: What is the business question that you need to answer?
Why is the Dwelling Fire hit ratio deteriorating over the last year?
KPI (Key Performance Indicator): What is the most important information that you need in order to answer the business question?
What are the quote counts?
What are the new business issue counts?
What is the new business issued premium?
Data: What data do you need to have in order to create and show the KPI's?
Quotes
Issues
New Business Premiums
State
Discovery: Will the data be able to answer your business question?
Quotes – have been steadily increasing
Issues – remaining relatively flat
New Business Premiums – remaining relatively flat overall
State – Higher quote distribution in certain states with declining new business premiums
Hit Ratios by state – declining across all states but mostly in one state
MISSING: Additional data needed for Agent level data
Develop: How can the data be visually designed to effectively communicate actionable insights in a simple way based on my audience?
Audience of Senior Leadership
Key points to get across:

New business has remained flat despite the hit ratio deterioration
Competitiveness of the product has deteriorated in certain states; remaining steady in other states

Visuals to leverage:

Graph: Quotes/Issues/Hit Rates overtime
Pie Charts: Last year & this year of state distribution of quotes & premiums
Graph: Hit ratios by state overtime
Top Agents declining hit ratios
Deliver: Does the dashboard/report provide the answers to the business question and allow users to drill down into specific details or outliers?
Now that all of the information has been combined in a beautiful dashboard/report, it gets delivered to the business. Have the business use and interact with the dashboard to find out if they are able to easily get the information that they need to understand the current state and make informed decisions. It is critical to solicit feedback from the business to ensure that what was delivered will effectively meet their needs.
Iterate: Do your users have additional business questions that the existing dashboard/report does not provide?
Business Intelligence is an iterative process. If the dashboard/report is not useful to the business, user adoption will struggle. Alternatively, once business users realize the power of effective Business Intelligence, it is not uncommon for them to want more.
Effective Business Intelligence transforms data into business insights and facilitates data-driven decision making. With so many advances in technology, Business Intelligence platforms are easier than ever to use, but that doesn't necessarily mean it will be easy to master and execute. Many organizations recognize that Business Intelligence is essential for making strategic decisions, but lack of appropriate business knowledge, poor data quality, and ineffective user experiences (UX) cause many organizations to struggle to implement. Business Intelligence is a specialized discipline that is no longer just nice to have in your organization, it is essential for business growth and competitive advantage. Proven expertise can help your business navigate all aspects of Business Intelligence so that you can realize the benefit of making informed data-driven decisions.