The insurance industry is perpetually evolving with technology, innovation, and data analytics. Data, both internal and external, has become readily available for insurance carriers over the past few decades. The use of this data is multifaceted and has become vital to managing the profit and loss of an insurance company. The marketplace is increasing in sophistication, exposing some insurance carriers to adverse selection and financial risk. Using data to manage a portfolio and price products are common ways in which analytics mitigates this risk to a carrier. Thus, is born the role of a product manager or product management. What a product manager aims to do is develop, deploy, and optimize business strategies that effectively manage the profit and loss of a portfolio. A product manager uses data, technology, and knowledge of marketplace activity to perpetually enhance the product offering and match price to risk.
The process by which a product manager uses data is multidimensional and dependent on product strategy. For product strategy think, 'Grow Homeowners by 5% over the next two years' or 'Shrink commercial auto loss ratio 2 basis points by Q4 next year'. Introductory analysis typically consists of a view into risk selection, gaining insight into what the new and renewal mix profile looks like. Product managers then compare their mix to loss performance to understand profitability of the portfolio. At times, understanding marketplace activity in a local market is important as all data points are compiled for decision making. Modifications to pricing & factor curves, adding variables to the rating algorithm, or other product adjustments are common strategies to achieve the goals for a given product. Product managers will then set expectations and build tools to monitor product performance and risk selection. This process becomes cyclical for a product manager to be sure the portfolio performance is sustainable over time.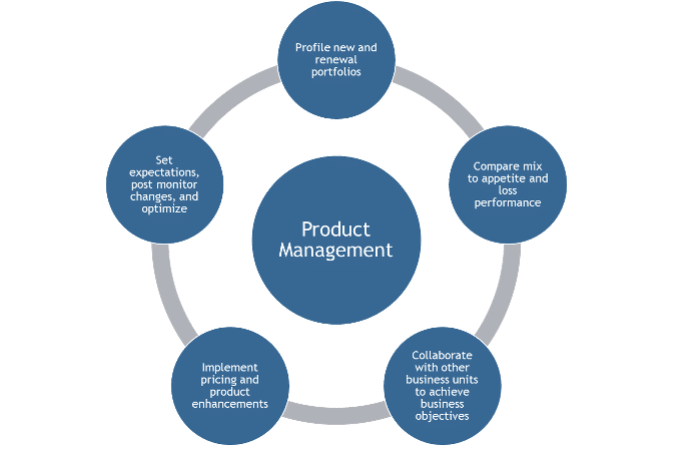 Product management departments are common among large carriers but require significant financial and human capital to operate. These organizations are built to be cross functional teams, that work collaboratively with most departments of an insurance carrier. Product managers work most closely with underwriting, actuaries, and technology teams. But a product manager must engage with all stakeholders in the policy issuance cycle; ensuring decisions are compliant, justified, and achieve business objectives. Below are high level examples of how a product manager would work with each business unit:
The ability to use data analytics to define product strategy and make data driven decisions is critical to compete in today's insurance marketplace. Data availability and powerful tool suites enable insurance carriers to add innovative and analytics-based segmentation to their rating platform. A product manager lives in that marketplace. As competitors evolve their product offering, targeted rate actions are a needed capability to avoid adverse selection and financial risk; product managers fulfill that need. An investment made in product management is an investment made in the future success for an insurance carrier. One that strives to compete in an everchanging marketplace with a profitable and competitive offering.